Deep Drip Watering Stakes from buyirrigation.co.uk
Deep Drip tree watering stakes help you to water and fertilise your trees and shrubs directly at the plant root. Watering at depth encourages healthy plant root growth, soil aeration and conservation of a precious resource.

Available in 3 sizes and manufactured in ABS, the stakes are re-cyclable and strong. Multiple holes in the bottom of the stake covered with an internal mesh filter provides free passage of water to the roots whilst preventing any dirt or debris entering the stake.
Installation is simple...

Newly planted trees may only require 1-2 stakes whilst larger more mature specimens will require a number of units installed around the perimeter of the canopy

Position the stake beneath the outer edge of the tree canopy. Using a 3 pound hammer with the protective cap installed on the stake, drive into the ground. (Always wear protective goggles when doing this)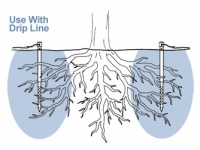 Once installed watering can be provided by inserting a small dripper into the top of each stake as shown. Connect to a tap and if required a water timer and watering can take place fully automatically.
Drippers, timers and fittings available from buyirrigation.co.uk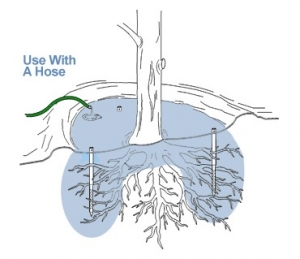 Alternativley, build a small bund around the tree and fill with water using a hose. The GreenWell is a great product to use in conjunction with the Deep Drip stake.
Use a 14" Deep Drip watering stake for small trees and shrubs with shallow roots, rose bushes, ornamental trees, large container pots
Use a 24" Deep Drip watering stake for average trees and established planting
Use a 36" Deep Drip watering stake for large deep rooted and established trees
14" Stake...£11.60 24" Stake...£12.50 36" Stake...£13.40
VAT and delivery extra